Sunday, March 30, 2008
Blogroll
If you are interested in trading links, just contact me.
Blogs ~
Product Buzz
Getting free from Debt
Ribbon Rock Star Hair Bows
Rainy Day
Vanilla Joy - Family Fun
Mom of Two That's Who
Kelleys Family Jewels
Props & Pans
Working Mother
SunEGrl Loves To Shop
Mommy Bits
A Daily dose of Toni
Adrienne's House
Sweet 'n' Sassy Girls
Choyster Cash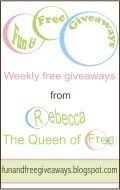 Websites & Stores ~



My Ebay Store



Sweepstakes Advantage - The Largest Directory of Free Online Sweepstakes!
Box of Style is offering a free gift with purchase right now.  Box of Style is a l uxury subscription box curated by designer and editor...

It is the long awaited Dance Recital Season, that all little dancers look forward to. A lot of parents, grandparents even aunt & uncl...

I love love love this NYX Cosmetics Concealer Wand  in Porcelain. It has amazing coverage and it is only $4.99 plus cruelty free! I or...