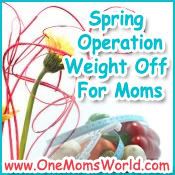 It's week two of Operation Spring Weight off. I've been doing good with drinking more water, and really cutting down pop a lot. I usually only drink it now when I take my girls to dance because I buy those 16.9 oz bottles (does anyone else hate the goofy sizes they come in now 16.9 or 24, ugh). One day this week, I actually drank water while out which is rare for me, lol. At home I drink a lot of tea. Sorry just cannot stomach a ton of plain water, I get so sick from it.
I'm only trying to lose 5lbs, so I was happy when I actually dropped half a pound. With the kids home for spring break, it was hard doing any type of exercise just for me. Even eating right is hard with them for some reason. This week I want to step up my exercising & start adding in more fruits again. I love fruit but with Michigan weather, I don't seem to eat as much in the Winter. It is starting to get nicer out though & I am more in the mood for it.
My biggest goal this week is figuring out my exercise plan. I always rip out articles & save websites but never actually put it into motion. I am going to get that going this week!
Click the banner above to check out everyone else's progress.