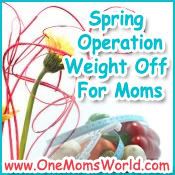 I have been bad & forgetting to post my results. I've been keeping up on the fitness though. I've lost about a pound and a half since starting this. I honestly didn't think I'd lose anything since it has been so long since I lost weight, so I'm excited. I've been thinking about what I have been eating & thinking about my health & fitness. This is the reason I joined this challenge, so I'm feeling good.
I always go & buy a Sunday paper. Yesterday was a very nice day & I realized that was a perfect reason to walk to the gas station & buy the paper that way. Give me a reason to walk & give my car a break. I can't believe I haven't thought of it before, lol. I plan on doing this more often now that the weather is getting nicer. Except we are supposed to have snow this week, what?
I found some good exercise resources on the web & thought I'd share ~
20 Minute Park Workout for Moms
Abdominal Reconditioning
Simple Abs Workout
Flat Belly Diet
If you are looking for ideas on food or exercise,
Prevention's Website
is awesome!