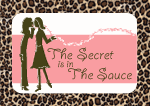 I've seen the site around before, but I just really started reading what they wrote today. I know I know, where I have been.
Tiffany
and
Heather
founded this wonderful blog called The Secret is in the Sauce (SITS). They started this site to help bloggers increase their traffic and increase the comment love. The SITS readers are known for their comment love.
How does it work? SITS introduces a new blogger each day from Monday through Friday. On the weekends, they run contests. Join the site now to participate in the
six weeks of summer giveaways
.
Feel free to tell them you found out about the site from me :)