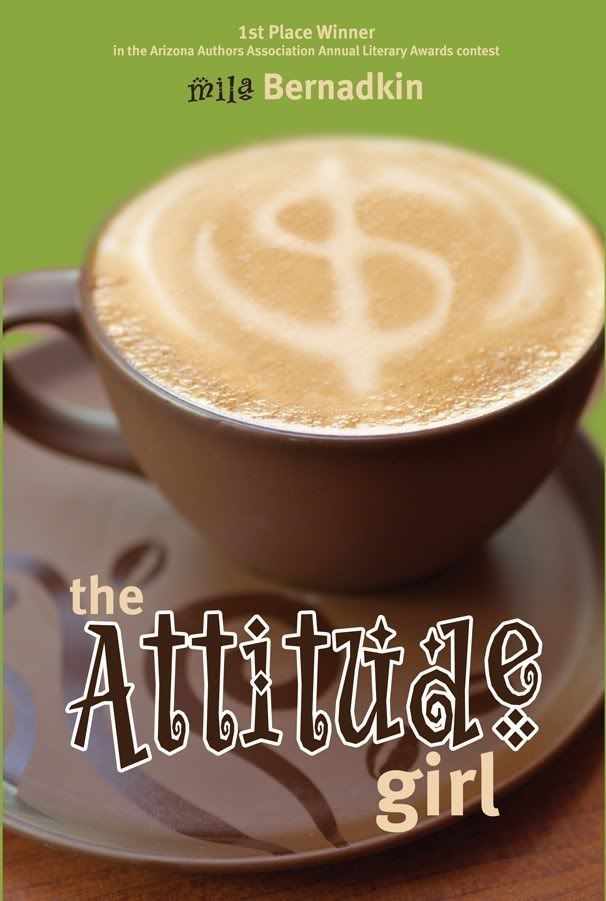 Do you have a tween or teen in your life? I do and boy does she have an attitude! That is why I was excited to read this new coming of age book called the
The Attitude Girl
.
The Attitude Girl by Mila Bernadkin follows outspoken, materialistic 17-year-old Vicky on her road to becoming an adult as she struggles with bullying, financial setbacks, idealism, loss and forgiveness along the way.
Lately, everyone thinks Vicky has an attitude problem…but in her eyes, she's simply being honest about what she thinks and feels – something she wishes everyone else would do a little more of – and realistic about what it takes to forge a successful future in today's economically unsteady world. She was NOT going to fail financially like her dad did before he left Vicky and her mom for good, and she wasn't going to fall for a sweet-talking guy who would happily steer her away from her goals just to get into her pants. She was being level headed! So why didn't her friends and family understand that?

In this debut novel, a first-place winner in the Arizona Authors Association Annual Literary Awards contest, Bernadkin draws on her experience as a teacher, mother and advanced graduate of the Institute of Children's Literature to create a compelling story that identifies with the tremulous world of mixed emotions and confusing messages of "maturity" today's teens live in as they feel their way through the process of becoming young adults.
My thoughts ~ I really enjoyed the story of Vicky. Yes, she did have an attitude. Was it deserved? Probably, she had some hard things going on. This book helped bring me back to teenage years, that feeling of knowing it all. Now realizing how you come off with such an attitude and sometimes hard to be around. I loved that she was against dishonest, a very important virtue to have. As you read through the book, you start to see Vicky mature a bit, she will learn to be a bit more understanding of others. This is a really great read from a wonderful new author.
I had the chance to email a bit with Mila Bernadkin. She was one of the sweetest authors I think I have come into contact with since reviewing books. Wonderful lady, I'm so excited to see what is next from Mila!


The Attitude Girl,(ISBN: 978-1-58985-115-9

)

a Five Star Publications book, retails for $16.95 and can soon be purchased in bookstores and through BarnesandNoble.com, Borders.com, Amazon.com
, Walmart.com, Target.com, IndieBound.org and FiveStarPublications.com. Visit www.AttitudeGirlBook.com for more information.
Disclosure ~ This book was provided free of charge, by Mila Bernadkin/Five Star Publications, in association with
MamaBuzz
.